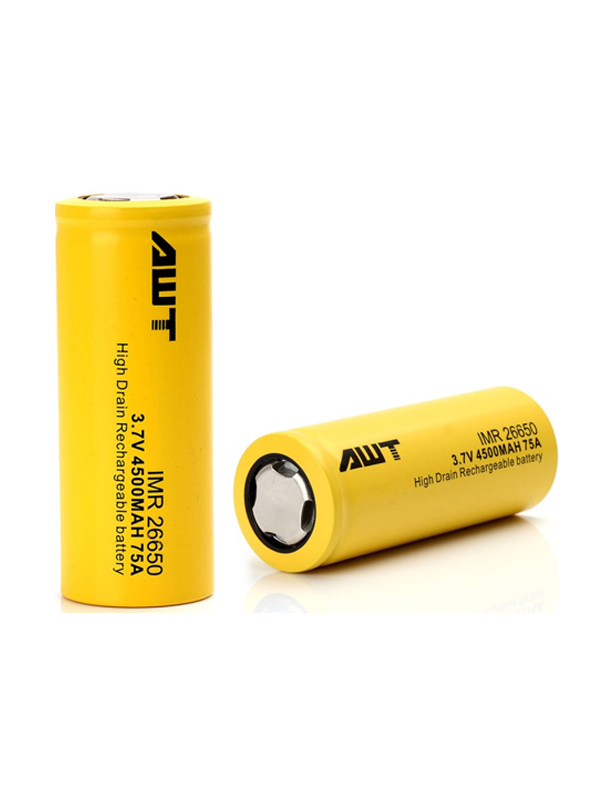 AWT 26650 4500mAh 75A Battery (Single)
Regular price
£10.99
/
Tax included.
---
Free UK shipping on all orders over £30
In stock, ready to ship

Inventory on the way
So many batteries on the market and you don't know what to choose ? Imagine the convenience of having power all day long without switching batteries. Aweite 26650 ion battery with 4500mah capacity and 75Amp at maximum pulse discharge, able to provide lots of clean energy for high or low drain devices. Manufactured by one of the largest battery makers.

Contents
1 x Single AWT 4500mAh 75A Battery

Specifications:
Continuous discharge current: 45A (at 25°C), 60% at 250 cycle
Maximum pulse discharge: 75A
Nominal Voltage (V): 3.6V-3.7V
Top (positive side): Flat top
Protected: No (Unprotected)
Charge: 1.50A, 4.20V,CCCV 150mA cut-off
Charging time: Standard charge : 180 min / 150mA cut-off Rapid charge: 70 min (at 25 °C) / 100mA cut-off
Weight (g): 74g
Height : 64.85 ± 0.15mm
Diameter : 26.33 ± 0.07mm
Made by AWT
To ensure your safety and maintain the battery's life and durability, we recommend you follow these rules:
Do not over-discharge or overcharge the battery. Doing so will shorten the battery's life and sometimes, it can make it pop or leak.

Please do not short circuit or it will release massive current.

Do not play with fire! Do not dispose any kind of battery in or near any fire.

Do not stack more than one battery as it may potentially blowout and cause serious damage to yourself and place. Notes: We do not recommend stacking more than one battery in your device because it may potentially blowout and cause serious harm
At NYKecigs.com we offer various options for shipping. Over busy periods ( Christmas, Bank Holidays, Black Fiday sales etc) there may be slight delays over the usual times. Our Guaranteed Next Day shipping service uses DPD/INTERLINK EXPRESS for all orders received, and where funds are cleared before 14:00. 
For any orders received after 14:00 we will ship out on the following day. Any queries please contact our helplines on:
UK Landline 03333 446 555 (local rate/free from mobile with inc minutes)
UK Mobile  07481 533 000
Click and Collect
Blackburn Store Only
You can place your order online as you would do normally. When you check out you can select Click and Collect as your delivery option. Come to our Blackburn store and collect your order.
Hassle free and easy for anyone short on time.

Your order will stay at processing until you collect it. Orders can be ready 30mins after placing the order at times we are open. However it may be worth calling the store direct on 07481533000 to double check so as to avoid any issues.

Please Note:
Click and Collect is only available at Blackburn store from Monday to Saturday. We do not offer Click and Collect on Sundays.  Please call us prior to coming to collect to make sure all items are in stock.
24 Hour Tracked Delivery
1-3 Working Days

Order placed before 2pm Monday to Friday will be processed on the day same day. Orders placed after 2pm will be processed the next business day. Friday after 2pm will not be dispatched until Monday.

£3.99


48 Standard Delivery
2-4 Working Days

Orders placed before 2pm Monday to Friday will be processed within 1-2 days. Orders placed after 6pm will be processed within 1-3 days. Orders placed on Friday after 2pm will be processed within 1-3 working days.

£2.99

FREE on orders over £30


Next Day Delivery -DPD
1 Working Day

Extra business day for remote locations. Orders placed before 6pm Monday to Friday will be processed on the day same day. Orders placed after 6pm will be processed the next business day. This means Friday orders placed after 6pm will not be dispatched until Monday.

£5.99


Special Saturday (UK Only)

Order must be placed before Friday 2pm

£8.99