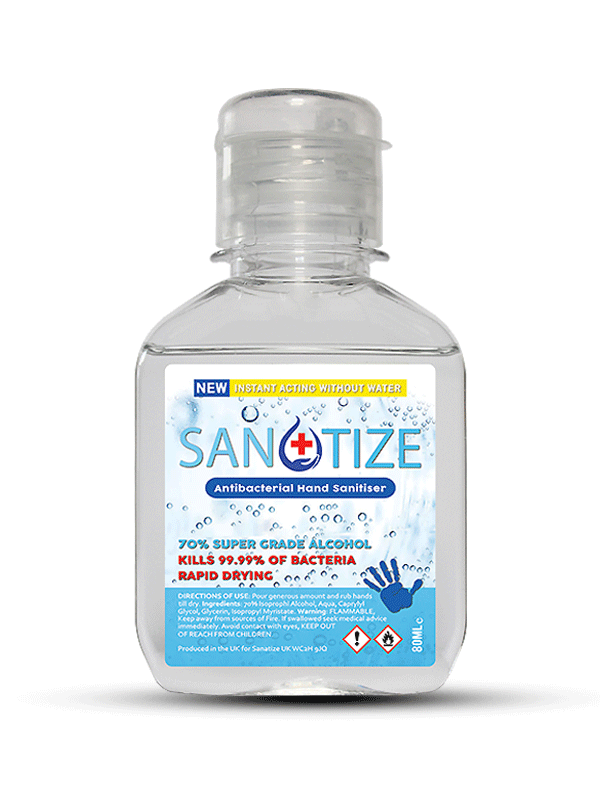 Sanatize AntiBacterial Hand Sanitiser 80ml
Regular price
£3.00
Sale price
£1.50
Save £1.50
/
Tax included.
---
Free UK shipping on all orders over £30
In stock, ready to ship

Inventory on the way
Santize Hand Sanitiser is a UK Made, fast drying SUPER GRADE 70% Alcohol hand sanitiser that kills 99.99% of bacteria, germs and viruses.  Hand sanitisers, alongside washing your hands regularly for at least 20 seconds, can help you and your family stay clean.

Practising good hygiene can begin with a hand gel kept in your bag for when you're out and about.   Being able to clean your hands when you have no access to soap, hand wash or water is easy with antibacterial hand gel.  No water needed – perfect for the car, office or workplace. Refreshes and leaves hands feeling soft.

Contents
1 x Santize Hand Sanitiser 80ml (Most bottles filled with 90ml)

Features
70% Super Grade Alcohol
Kills 99.99% of Bacteria, Germs and Viruses
Rapid drying
Added hand moisturiser - Hands are left feeling soft and cared for
Sanitises hands within 20 seconds
Waterless Sanitiser - No Water Required, No Sticky Residue

Ingredients
70% Isopropyl Alcohol, Aqua, Caprylyl Glycol, Glycerin, Isopropyl Myristate.
At NYKecigs.com we offer various options for shipping. Over busy periods ( Christmas, Bank Holidays, Black Fiday sales etc) there may be slight delays over the usual times. Our Guaranteed Next Day shipping service uses DPD/INTERLINK EXPRESS for all orders received, and where funds are cleared before 14:00. 
For any orders received after 14:00 we will ship out on the following day. Any queries please contact our helplines on:
UK Landline 03333 446 555 (local rate/free from mobile with inc minutes)
UK Mobile  07481 533 000
Click and Collect
Blackburn Store Only
You can place your order online as you would do normally. When you check out you can select Click and Collect as your delivery option. Come to our Blackburn store and collect your order.
Hassle free and easy for anyone short on time.

Your order will stay at processing until you collect it. Orders can be ready 30mins after placing the order at times we are open. However it may be worth calling the store direct on 07481533000 to double check so as to avoid any issues.

Please Note:
Click and Collect is only available at Blackburn store from Monday to Saturday. We do not offer Click and Collect on Sundays.  Please call us prior to coming to collect to make sure all items are in stock.
24 Hour Tracked Delivery
1-3 Working Days

Order placed before 2pm Monday to Friday will be processed on the day same day. Orders placed after 2pm will be processed the next business day. Friday after 2pm will not be dispatched until Monday.

£3.99


48 Standard Delivery
2-4 Working Days

Orders placed before 2pm Monday to Friday will be processed within 1-2 days. Orders placed after 6pm will be processed within 1-3 days. Orders placed on Friday after 2pm will be processed within 1-3 working days.

£3.49

FREE on orders over £30


Next Day Delivery -DPD
1 Working Day

Extra business day for remote locations. Orders placed before 6pm Monday to Friday will be processed on the day same day. Orders placed after 6pm will be processed the next business day. This means Friday orders placed after 6pm will not be dispatched until Monday.

£5.99


Special Saturday (UK Only)

Order must be placed before Friday 2pm

£8.99